Elvis Perkins
Elvis Perkins (born 1975) is a folk-rock singer-songwriter. He is the son of actor Anthony Perkins and photographer Berry Berenson. He was raised in Los Angeles, California and New York City.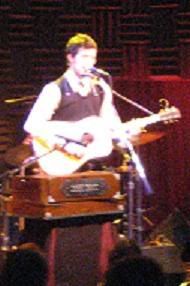 Perkins' melancholy songs reflect the personal tragedy he's experienced over the years. His father died of AIDS in 1992. His mother, a photographer, was on board a flight that was flown into the World Trade Center on September 11, 2001. His debut album, Ash Wednesday, a chronologically sequenced album of songs written before and after his mother's death, was released in February 2007 by XL Recordings with a lead single called "All The Night Without Love".
All the Night Without Love
The album includes backing vocals by Ariana Lenarsky, Shana Levy of indie band Let's Go Sailing, and others.
Originally Perkins had help from his brother, Oz Perkins, on drums and friend Ethan Gold who produced, arranged, and mixed the album. Perkins' band has grown to include bassist Brigham Brough, drummer Nicholas Kinsey and keyboardist/guitarist Wyndham Boylan-Garnett. Perkins' backing trio of musicians is known as Dearland.
Elvis Perkind in Dearland - Shampoo - Mp3
Perkins garnered media attention in 2006 through extensive touring across the United States with Matt Costa, World Party, Cold War Kids, Okkervil River and Pernice Brothers. He has also played the Lollapalooza and Sasquatch music festivals. Perkins is currently opening for Kentucky country-rockers My Morning Jacket on their US tour.
Perkins' song "Moon Woman II" appears on the Fast Food Nation soundtrack.
Moon Woman II
Bonus :
WITHOUT LOVE - Mp3
Upcoming Shows...
Mar 29 - Portland, OR
Doug Fir Lounge
Mar 30 - Seattle, WA
The Tractor Tavern
Mar 31 - Vancouver, BC CA
Media Club
Apr 03 - Denver, CO
Soiled Dove
Apr 04 - Omaha, NE
Sokol Underground