Wednesday, February 17, 2010
TFTHC - Structure Music Video
Wednesday, February 03, 2010
News/Mp3s/Shows
Frog Eyes are slated to release thier new album this April through thier new record label Dead Oceans. It's titled "Paul's Tomb: A Triumph, you can see the cover art and download the first song below. Oh BTW the song (which runs just over 9 minutes) is truly epic, and from what Ive heard, the rest of the album is gonna blow your mind too! So needles to say I couldn't be more psyched for this one: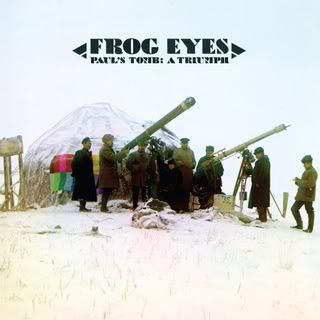 Mp3: Frog Eyes
Flower In A Glove
Joanna Newsom's new TRIPLE DISK* album called "Have One On Me" and will be released from Drag City on February 23rd! Check out the beautiful cover art for that, and while your at it, go ahead and download the first two available tracks from it as well:
Mp3: Joanna Newsom
'81
Mp3: Joanna Newsom
Good Intentions Paving Company
There are also alot of upcoming shows in the greater NYC area to get excited about.
For instance this upcoming show at Maxwells in Hoboken with Thomas Francis Takes His Chances and The Invincible Gods.
Check out the showster and Mp3s below:
Mp3: Thomas Francis Takes His Chances -
Worms (unmastered)
Mp3: The Invincible Gods -
Pistol Whipped
Here are some random live mp3s from some past shows that you may or may not have missed:
Mp3: Kurt Vile
Freak Train (live at the Bowery Ballroom 1.16.10)
Mp3: Women
CBC Radio 3 Sessions 1.27.10 (full session)
Mp3: Grizzly Bear
Boy From School (Hot Chip cover from Triple j sessions)
Bonus Mp3s...
Mp3: The Rural Alberta Advantage
Eye Of The Tiger (Survivor cover)
Mp3: Dirtsurfer
Chemicals
Mp3: Citay
First Fantasy