Dan Boeckner Talks Wolf Parade, Handsome Furs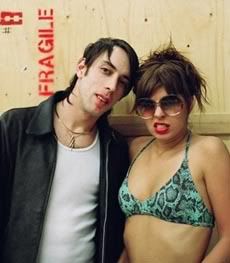 From Pitchfork...
Boeckner on Handsome Furs: "It's basically Wolf Parade without the guy that everybody likes and no real instruments."
Hey, Wolf Parade! It's been awhile. Haven't heard much from you. Sure, there are all kinds of side gigs and supergroups, including singer/guitarist Dan Boeckner's latest project, Handsome Furs (much more on that later). But we really want to know about the main event. You know, the band that recently won the Music Video of the Year Plug Award for the "I'll Believe in Anything" clip?
"Oh really, we won that?" said Boeckner in a recent phone chat with Pitchfork. "The Hungarian Disaster! That's amazing!"
"Hungarian Disaster? "Yeah, our friend Matt filmed [the video] in Hungary," Boeckner continued. "I wasn't actually there for the video. [Keyboardist] Hadji [Bakara] actually found a human skull in the garbage of a Croatian restaurant in Budapest.
"Whoa, that's incredible! Did you keep it? "No, but there's an amazing picture of him holding it up."
We'd sure like to see that! Alas, a Google image search for "hadji wolf parade human skull" didn't turn up anything.
Fortunately, a new Wolf Parade album is closer at hand. "If everything goes according to plan, we're going to start recording the record over the next couple of weeks into the spring," Boeckner said. "I'd like to be finished with this record by May.
"Everybody's back to the same city and I think we're ready. I know everybody's chomping at the bit to get this record recorded. And I think we're going to do it really, really fast, and record it ourselves. "To be totally honest, we've been working on this record since the last record was finished. We have more than an album's worth of material that anybody who's come to see us live in the last year has heard. And the way it's going right now, I don't think a lot of those songs are going to get put on the record. We started writing brand new stuff, and we kind of re-arranged the way we were writing, which is really exciting.
"[Co-frontman] Spencer [Krug], [drummer] Arlen [Thompson], Hadji and I have been just getting together and jamming for hours at a time without stopping and then putting it on tape. I think we're always looking for a way to do things democratically in Wolf Parade, because we've all got our fingers in other things. And I think this way we've achieved this total, idealistic, Marxist mindset, where we're just recording stuff as it gets written, and then going over it, saying 'That's a song, there.' And then playing it and adding lyrics to it."
In the meantime, Boeckner is keeping plenty busy with Handsome Furs, his band with fiancée Alexei Perry. Their debut album Plague Park is due out on Sub Pop on May 22.
Boeckner described Handsome Furs as "basically Wolf Parade without the guy that everybody likes and no real instruments." He plays guitar and keyboards while Perry does "programming with a really archaic drum machine and some pretty small keyboards." Wolf Parade drummer Arlen Thompson contributes to the recording, while Chad Jones (aka Constellation Records artist Frankie Sparo) is an auxiliary Handsome Fur on the road.
Handsome Furs has existed for a little over a year. "We put the band together kind of on-the-fly when I was living in Vancouver in this bachelor apartment," Boeckner said. "We did it for fun, but then we got offered a tour in Scandinavia. So we were like, 'Oh, shit. We need to write some songs.' So we wrote some songs and we did some covers.
"We covered a Liars song. We did 'The Other Side of Mt. Heart Attack.' But we'd only heard that song a couple of times, so we just did it from memory. I had no idea what the lyrics were, so I kind of made them up. Actually, that quote-unquote cover kind of evolved into a Handsome Furs song, 'Dead + Rural'. It's this song we wrote about the small town that I grew up in.
"We've just been listening to a lot of the last Liars record, and Sunn0))). That was a big influence, like that minimal repetition and stuff."
Although Boeckner is insistent that Handsome Furs is not a goth, industrial, or metal band, he admits that the title Plague Park does indeed "sound like a Skinny Puppy record." It also has a pretty gnarly back story:
"It's based on this fucking amazing story in this park that is in Helsinki. I think a lot of the lyrical part of the record is in the shape it's in because I started reading a lot of Finnish fiction and folktales. It started as this weird love letter to Scandinavia, and specifically Helsinki. Plague Park is this one place called Ruttopuisto, which is in the middle of Helsinki. And in the 17th century, there was outbreak of the plague, and a third of the city died, and they buried them in this park. And at that point, the park was outside of the city limits, when it was still under control of the King of Sweden, I guess. They never thought that the city would grow around the park, but it did.
"In the first couple days of spring, people just go to this park and get fucking hammered. There's this beautiful park in the middle of all this gray, socialist architecture, and there's literally a couple thousand bodies in a mass grave under the park. And people pay their respects by drinking beer there.
"They have this big stone monument that people put their beer caps on. It's kind of like paying their respects for the dead. I really like that juxtaposition of the stoic, Finnish partying, getting hammered on the first day of spring when it's not dark all day long. And they're sitting on thousands of bodies!"
Appropriately enough, Handsome Furs just finished up a Scandinavian tour. They plan to tour North America later in the year, and have brand new, Perry-designed Handsome Furs t-shirts which they would love to sell you. "They're the Alignment Chart from the Advanced Dungeons and Dragons 1978 manual. And we just erased the words 'Alignment Chart' and put 'Appendix 3: Handsome Furs' on it."
Unfortunately, that Scandinavian tour threw a wrench in plans for Boeckner to perform as part of the indie rock "supergroup" Internet, also featuring Les Savy Fav's Syd Butler, Wolf Parade's Hadji Bakara, and Islands' Nick Diamonds, at a New York City benefit for 826NYC, originally scheduled to take place this Thursday, March 15. (The event has been moved to April 10.)
"This whole thing is just totally indicative of the speediness of news on the internet," Boeckner explained. "I don't know what happened precisely and I don't want to step on anybody's toes or make anybody feel bad, but I heard from Hadji that this project was happening and I talked to him and Nick, but I didn't actually know that the actual day of the show was the 15th of March. Because otherwise, I wouldn't have agreed to it. But I guess McSweeny's went ahead with the press release before they heard back from Nick Diamonds. And then Nick was over at my birthday party in my apartment with Hadji the other day, and I heard them talking about it, and I heard March 15, and I just kind of walked across the room...
"I guess a man can only have so many side projects."
Plague Park tracklist:
01 What We Had
02 Hearts of Iron
03 Handsome Furs Hate This City
04 Snakes on the Ladder
05 Cannot Get, Started
06 Sing! Captain
07 Dead + Rural
08 Dumb Animals
09 The Radio's Hot Sun