Grandaddy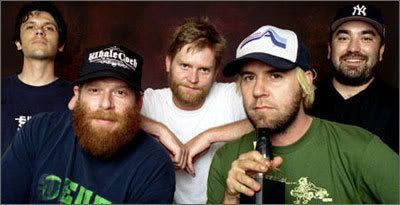 Grandaddy was formed in 1992 by singer/guitarist/keyboardist Jason Lytle, bassist Kevin Garcia, and drummer Aaron Burtch. In 1995, guitarist Jim Fairchild and keyboardist Tim Dryden joined the band.
Musically, the band features both guitars in the indie rock style, keyboards reminiscent of Philip Glass's minimalist style and vocals in the key of Neil Young. The band's musical style (somewhat classifiable as indietronic) often combines experimental electronic sounds with elements of folk and rock. Lyrics generally focus on isolation in a high-tech world grafted onto rural American. Common themes in the band's music are wildlife, obsolete technology, robots, incompetency and heartbreak. Lyricist Jason Lytle spent time working in a sewage treatment facility, which heavily influenced many of the songs on The Sophtware Slump.
Around the time that The Sophtware Slump was released, Grandaddy was invited to open for Elliott Smith on his tour for Figure 8. On some nights, Smith would join Grandaddy onstage and sing lead vocals on portions of "He's Simple, He's Dumb, He's the Pilot".
"A.M. 180" from Under The Western Freeway was featured prominently during a sequence in the 2002 British film 28 Days Later. Starting in late 2005, the Grandaddy song "Nature Anthem" could be heard in a Honda Civic Hybrid television commercial and is currently heard in a Coca Cola commercial.
On January 27, 2006, Jason Lytle announced that the band had decided to split up. This was partially due to their work ethic in not releasing music on major labels or playing at typical Ticketmaster / Clear Channel sponsored venues. Lytle spoke to NME: "It was inevitable...On one hand our stubbornness has paid off, but on the other hand refusing to buy into the way things are traditionally supposed to be done has made things worse for us... The realistic part is it hasn't proved to be a huge money-making venture for a lot of guys in the band." He also revealed that the band had a meeting in downtown Modesto during December 2005 to decide on the group's future. The meeting was tense and filled with the airing of grievances, but "far from blows." The feeling at the meeting was described by Lytle as the result of a breakdown in communication between the band members. [1]
The band has no plans to tour on their final album, Just Like the Fambly Cat. Lytle has stated that he intends to continue making music, and has recently embarked on a solo tour. He has also made known his intentions to move from his longtime home in Modesto to Montana.
Here are some of thier songs -
From Sumday...
Stray Dog And The Chocolate Shake
From Just Like The Fambly Cat...
Jeez Louise
From a Solo Acoustic show w/ lead singer Jason Lytle...
Elevate Myself
From the 28 Days Later sountrack...
AM180