Bishop Allen's August Live ep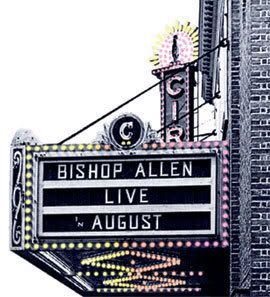 "This month's EP took us a little longer than usual because, well, it's a lot longer than usual: 13 songs—a whole show at the Middle East (just one block from Bishop Allen Drive), plus a bonus track from Pianos in New York City, where we've been playing a lot this year.
August features a coupla chestnuts from Charm School, all our favorite songs from this year's EPs, plus two previously unreleased songs. We spent the month either getting ready for tour, devising new arrangements and all that, or out on the road, and we thought we'd share the experience with you."
That Summer (Live)
The Same Fire (Live)
and a new one:
The Flood (Live)
The EP is still just $5.
Buy this ep, and others like it, here
and a video of them doing Butterfly Nets Live