Destroyer Live @ Bowery Ballroom 4.23.08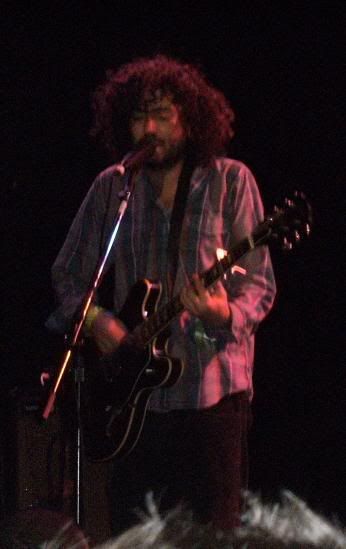 Warm nights spent outside the Bowery Ballroom smoking cigarettes and watching scurried individuals is when i know spring has officially come. And no better way to bring in the spring than a much anticipated show:
Destroyer
. As a long time fan I've had a growing concern that Dan Bejar would never surface from hiding to put on a New York preformance. Finally, a couple months back, I was able to catch a show featured earlier on this
blog
@ Glasslands in Brooklyn, after the release of his "duet" album with significant other, Sydney Vermont, (Hello Blue Roses : "The Portrait is Finished and I Have Failed To Capture Your Beauty...") . Seeing Dan perform was dark, enchanting and certainly leaving me X-ing off the calendar days in anticipation for the tour supporting Destroyer's 2008 release, "Trouble in Dreams", his first album in two years after the highly acclaimed success of 2006's "Destroyer's Rubies". Although, only four songs recorded well enough for listening, the show was no dissappointment. His poetry flowed like a rushing river through the crowd and Dan was as shy as a bay lamb between selections. My ears will remain peeled for any news suggesting a Swan Lake follow-up with colaborators, Spencer Krug (Wolf Parade, Sunset Rubdown) and Carey Mercer (Frog Eyes) and until then i will be listening the the following live tracks like its my job.
Self Portrait With Thing (Tonight Is Not Your Night)
Foam Hands
Certain Things You Ought To Know
Modern Painters
The opening acts included:
Colossal Yes
and
Andre Ethier
. Both were entertaining, however, I fully enjoyed the
Andre Ethier
set and recommend them to anyone who likes Dylan-esque flannel wearin tunes without regard for perfectly pitched vocals and beauty.