Jamie Stewart of Xiu Xiu recorded live on Jan 4th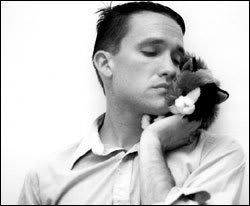 Jamie Stewart @ The Lutheran Church in Brooklyn NY on Jan 4th 2008
Good recording, the crowd was very curtious...sound was great
He played 8 Xiu Xiu songs including 2 new songs from Women as Lovers due out on Kill Rock Stars on Jan. 29th!! although they have officially sold out of the special edition version of the new Xiu Xiu record Women As Lovers. They now have regular editions available here:
Buy the new Xiu Xiu album
Download the Live Show here...
1. Clover
2. Master of the Bump
3. The Fox & The Rabbit
4. FTW
5. Don Diasco
6. Brooklyn Dodgers
7. Helsabot
8. Clowne Towne
ENJOY!