Some Pretty Darn Good Songs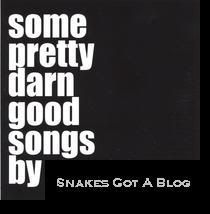 Chad Vangaalen
Green Beans
Off the Green Beans ep
Holcombe Waller
Literally The End Of The World.mp3
No one regrets this new twist quite like I do...
Elvis Perkins
08 - Hey(Live)
2007 March 23 - The Echo - Los Angeles, CA
Reyn
Do You Remember When?
It has been described as: "Balmy tropical indie rock for lovers and thinkers. Reyn's folk forays are like summer anthems, loaded with good vibes and beach memories. Reyn is good at simmering bits of folk, rock, funk and daydream pop into a hushed beat."
Dr Dog
Dr. Dog - The Girl (Beck Remix)
Off New 7"
Miles Benjamin Anthony Robinson
My Good Luck
Brooklyn's best kept secret plus the soundtrack for the Summer of Fear